PRISHTINA COMMON GROUND SUMMER FESTIVAL | P

C

G

S

F
16TH- 17th – 18TH July 2014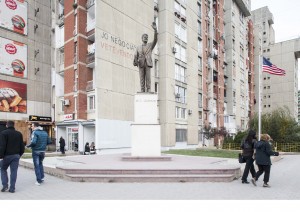 PRISHTINA COMMON GROUND SUMMER FESTIVAL 2014 is 3 days of events to transform the most exciting public spaces and abandoned sites in Prishtina in new common ground for art, leisure, food and international professional exchanges. Public Actions and Walkscapes with historians, architects, cultural activists and government officials will let you discover the boundaries of the old town, the legacy of modern architecture, the waterscapes and ways of living in Prishtina. Exhibitions and workshops will show new devices to interpret the typologies of public spaces, the art instruments to start-up a common place and traditional meeting places related to the exchange of goods, body care, prayer. The Public talks, Public Lectures and Public Tea will allow you to test a common vision for the city, discuss strategies for multiculturalism and know local actors and European experts who will provide their own tools for the regeneration of urban public spaces.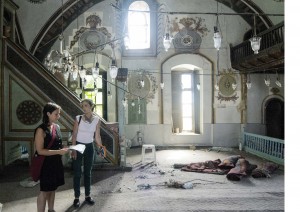 Press realease P C G S F | Press realease P C G S F_ALB.lekturuar ; program: PCGSF def EN |PCGSF def ALB
Photo courtesy Fiilippo Romano.
Curators
Temporiuso.net- Isabella Inti, Giulia Cantaluppi and Rozafa Basha with Gyler Mydyti 
Graphic design and communication
Donald Alimi, Lazar Belic, Njomza Dragusha, Mikel Gonzales, Christoph Kirchberger, Krenare Juniku, Letizia Monti, Matteo Persichino, Joanna Zabielska, Erica Zorzi.
Photo
Filippo Romano
Video Emanuele Mei
Supported by
Culture for all, an EU funded project managed by European Union Office in Kosovo | Ministry of Culture, Youth and Sport, Republic of Kosovo | DE.MO./MOVIN'UP I sess. 2014  by Ministero italiano dei Beni e delle Attività Culturali e del Turismo | GAI – Associazione per il Circuito dei Giovani Artisti Italiani | A.R.S. Progetti S.p.a. | Municipality of Prishtina | DAStU, Department of Architecture and Urban Studies, Politecnico di Milano | Faculty of Architecture, UBT- University of Business and Technology
In collaboration with
Prishtina International Summer University 2014 | Faculty of Civil Engineering and Architecture, University of Prishtina "Hasan Prishtina"
Media partners
KOSOVO 2.0 | Abitare International magazine