Temporiuso. Manuale per il riuso temporaneo di spazi in abbandono, in Italia . Di Isabella Inti, Giulia Cantaluppi, Matteo Persichino. Edito da Altreconomia con il sostegno di Fondazione Cariplo
presentazione libro e dibattiti pubblici / Temporiuso. Manual for temporary reuse of abandoned spaces | Book & public discussions
Pula | 12th august 8 P.M. | Praksa / Centro Aeroporto Pula Multimedia (Kultur Istria)
Venice | 7th september 3 P.M. | La Piave / Serra, Biennale di Venezia, edited by Elisabetta Bianchessi
Bari | 9-10 settembre ore 14.30 | Conversion + 2014, edited by Smallab
Milano | 18 settembre, ore 18 | Triennale di Milano
info: abstract Altreconomia
Ri- Formare Milano | mostra presso Triennale di Milano
16 luglio – 31 agosto 2014
Ri-formare Milano è un'iniziativa didattica e di ricerca promossa dalla Scuola di Architettura e Società del Politecnico di Milano in collaborazione con l'Assessorato all'Urbanistica, Edilizia Privata, Agricoltura del Comune di Milano. Coordinamento scientifico: Corinna Morandi, Paolo Mazzoleni | A cura di: Barbara Coppetti con Pierluigi Salvadeo, Andrea Oldani, Giulia Setti, Martina Sogni
Numerosi laboratori e corsi di progettazione hanno lavorato per esplorare la possibilità di rimettere in circolo aree ed edifici in stato di degrado e abbandono, di proprietà pubblica e privata. La mostra espone oltre cento progetti sviluppati dagli studenti della Scuola, avendo come base l'indagine comunale sui fenomeni di dismissione e abbandono di immobili, spazi e servizi nel territorio milanese. Anche Temporiuso.net ha contribuito nell supportare la mappatura di spazi in abbandono e nella progettazione e realizzazione di alcuni progetto di riuso temporaneo. In mostra Palazzina P7. Liberty ospitalità e scambio e Torre G.A.L.F.A. tesi di laurea di Matteo Persichino. 
PRISHTINA COMMON GROUND SUMMER FESTIVAL | P

C

G

S

F
16TH- 17th – 18TH July 2014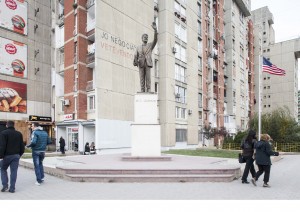 PRISHTINA COMMON GROUND SUMMER FESTIVAL 2014 is 3 days of events to transform the most exciting public spaces and abandoned sites in Prishtina in new common ground for art, leisure, food and international professional exchanges. Public Actions and Walkscapes with historians, architects, cultural activists and government officials will let you discover the boundaries of the old town, the legacy of modern architecture, the waterscapes and ways of living in Prishtina. Exhibitions and workshops will show new devices to interpret the typologies of public spaces, the art instruments to start-up a common place and traditional meeting places related to the exchange of goods, body care, prayer. The Public talks, Public Lectures and Public Tea will allow you to test a common vision for the city, discuss strategies for multiculturalism and know local actors and European experts who will provide their own tools for the regeneration of urban public spaces.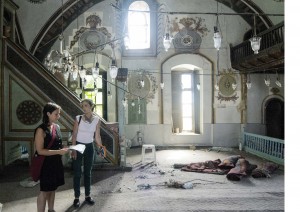 Press realease P C G S F | Press realease P C G S F_ALB.lekturuar ; program: PCGSF def EN |PCGSF def ALB
Photo courtesy Fiilippo Romano.
Curators
Temporiuso.net- Isabella Inti, Giulia Cantaluppi and Rozafa Basha with Gyler Mydyti 
Graphic design and communication
Donald Alimi, Lazar Belic, Njomza Dragusha, Mikel Gonzales, Christoph Kirchberger, Krenare Juniku, Letizia Monti, Matteo Persichino, Joanna Zabielska, Erica Zorzi.
Photo
Filippo Romano
Video Emanuele Mei
Supported by
Culture for all, an EU funded project managed by European Union Office in Kosovo | Ministry of Culture, Youth and Sport, Republic of Kosovo | DE.MO./MOVIN'UP I sess. 2014  by Ministero italiano dei Beni e delle Attività Culturali e del Turismo | GAI – Associazione per il Circuito dei Giovani Artisti Italiani | A.R.S. Progetti S.p.a. | Municipality of Prishtina | DAStU, Department of Architecture and Urban Studies, Politecnico di Milano | Faculty of Architecture, UBT- University of Business and Technology
In collaboration with
Prishtina International Summer University 2014 | Faculty of Civil Engineering and Architecture, University of Prishtina "Hasan Prishtina"
Media partners
KOSOVO 2.0 | Abitare International magazine
First we're going to discover a young festival in the Balkans!
MIKSER FESTIVAL | Belgrade 5-8 June 2014
Mikser House, Karađorđeva 46, 11000 Beograd, Srbija
Isabella Inti and Giulia Cantaluppi of Temporiuso with a group of students of the School of Architecture- Politecnico di Milano, will present COMMON GROUND LABORATORY- PRISHTINA with a photographic inquiry by Filippo Romano |  info: MikserFestival  | Program-mapa-2014| photocredit and courtesy Filippo Romano
but
we support all our friends great architects, photographers and curators that in the same days will inaugurate exhibitions and debates at the Biennale of Architecture in Venice. We will be there in September.
LA PIAVE / Archeowater tour NOVENTA DI PIAVE / TEMPORIUSO book | 7 September 2014
at Serra dei Giardini, Biennale di Venezia 
info: program LA PIAVE serra dei giardini | CS. la piave. temporiuso 7.9.14 | In the next weeks we will provide more informations about the possibility to participate to the Archeowater tour NOVENTA DI PIAVE and the book Temporiuso. Manuale per il riuso temporaneo di spazi in abbandono, in Italia. Ed. Altreconomia with the support of Fondazione Cariplo.
COMMON GROUND PRISHTINA #01 Which heritage?
A Vivarium for temporary architectures and elective communities
INTERNATIONAL SUMMER UNIVERSITY 2014
UNIVERSITY OF PRISHTINA, KOSOVO
7TH-18TH JULY 2014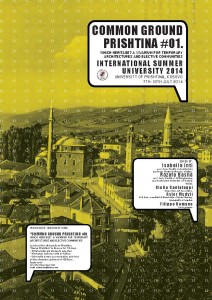 The course will aim to investigate the old center of the city, the physical traces of the past and the present ways of use the public spaces and the empty, abandoned or underutilized spaces. Whic temporary interventions can rediscover forgotten places and new imaginary? Today which elective community can redefine a space as a public good?The course will be done by Isabella Inti, prof. Arch. Faculty of Architecture, Politecnico di Milano and Rozafa Basha, Faculty of Engineering and Architecture, University of Prishtina "Hasan Prishtina". Experts involved: Giulia Cantaluppi, association Temporiuso.net, Italy | Gyler Mydyti, PhD arch. consultant at Directorate of Urban Planning, Municipality of Prishtina | Filippo Romano, photographer
APPLY NOW! Deadline 14th May 2014/ date postponed 28th May| info UPISU CGP Inti.Basha 2014
check the results of the last edition PISU 2013 WHAT HAPPENS TO STREETS OF PRISTHINA? | in Kosovo 2.0  and the Course COMMON GROUND LABORATORY Prishtina at Politecnico di Milano ay 2013-14
Mercoledì 14 maggio alle 10.00 | Politecnico di Milano, Via Ampere 2, AULA IIIC
LUOGHI IN TRANSIZIONE. ESPERIENZE DI RIUSO E RIATTIVAZIONE DI SPAZI DISMESSI E SOTTOUTILIZZATI NELLA CITTA' DI MILANO.
Il programma:
VALORIZZARE LE RISORSE CULTURALI DELLA PERIFERIA/
IL CASO DEL MERCATO COMUNALE DI VIA LORENTEGGIO E IL PROGETTO DI
RIGENERAZIONE TERRITORIALE DENCITY con Luca Francesco Garibaldo e Jacopo Lareno Faccini, Associazione Culturale Dynamoscopio | TEMPORIUSO. DALLA PIATTAFORMA AI PROGETTI DI RIATTIVAZIONE TEMPORANEA con Isabella Inti, MultiplicityLab |  QUARTIERI PUBBLICI LABORATORI DI SPERIMENTAZIONE/IL PROGETTO FOYER SANT'AMBROGIO con Valeria Inguaggiato, Cooperativa Sociale La Cordata
La lezione fa parte dei contributi proposti nell'ambito del Laboratorio di Progettazione e Politiche Urbane| Prof. Francesco Infussi, Prof. Paolo Bozzuto, Prof. Francesca Cognetti / Tutor: Arch. Alice Buoli, Dott. Linda Cossa, Dott. Alice Ranzini
Nuovi immaginari per spazi in abbandono o sottoutilizzati? Alcuni eventi durante la settimana del mobile di Milano ci hanno permesso di coinvolgere artisti, artigiani, architetti, designers, giornalisti, abitanti e pubblica amministrazione nel testare nuovi usi e nuove pratiche di riattivazione, ascoltare le storie e guardare alle enormi potenzialità di spazi residuali, in parte abbandonati. Grazie a tutti quelli che han partecipato. Dopo i test è ora di consolidare i progetti, a presto!   |    foto credits: Elena Mocchetti – HC, Maura Tacchinardi -HC
Mercato Montegani | REVOLVE art & craft. Public lunch and sustainable design 
Palazzina 7 | Filiera del riciclo /Re-cycle cradle
/ 
New imaginaries for the abandoned or underused spaces ?
Some events during the Milan Design week have allowed us to involve artists, craftsmen, architects, designers, journalists, residents and public administration to test new uses and practices of reactivation, listen to the stories and look to the vast potential of residual and abandoned spaces. Thanks to all those who participated. After the test is now time to consolidate the projects, see you soon! | Photo credits: Elena Mocchetti – HC, Maura Tacchinardi -HC
La riconquista dello spazio pubblico: esperienze a confronto
5-6 Aprile 2014 | ore 9.30-18
Il Dipartimento di Architettura, Design e Urbanistica – Architettura ad Alghero promuove, con la collaborazione di Apnea, Coworking Alghero, Greetings from Alghero, Impegno rurale e Malerbe, due giornate di riflessione con la comunità algherese su "La riconquista dello spazio pubblico".
Incontro e introduzione al dibattito "Riflessioni sul diritto alla città"con Arnaldo Cecchini, direttore del DADU |  "Imparariamo dalle esperienze" con arch. Isabella Inti, temporiuso.org e docente Politecnico di Milano | Csoa Pangea Porto Torres | Ex Q | gruppo di ricerca-azione TaMaLaCà | Dialogo aperto su una "Strategia di recupero degli spazi abbandonati" con  Antonello Monsù Scolaro | Apnea, Coworking Alghero, Eutopia Turritana, Greetings from Alghero, Impegno Rurale Malerbe, Società Umanitaria, Spazio-T, Librerie di Alghero, il corpo docente e i dirigenti scolastici, la comunità algherese| Costruiamo uno "Spazio d'interazione per Fare Città" con Alessandra Casu. 
REVOLVE ART & CRAFT
Pranzo pubblico e design sostenibile al mercato comunale Montegani
/ Public Lunch and sustainable design to the Municipal Market Montegani
9 aprile 2014 | ore 13-20/ 9 April 2014 | 1-8 p.m.
Questo è un invito a partecipare ad una giornata dedicata ai complementi di arredo di Design sostenibile al Mercato con performance di 10 designer, artisti e makers per esporre piatti, bicchieri, sedie, tavoli e altri complementi di arredo e abbigliamento legati alla Tavola e al cibo nel mercato coperto Montegani, oggi in parte sottoutilizzato. Le realtà che parteciperanno: AIAB food design, Bigmagma, Controprogetto s.n.c., CMC design, Girocambiando, Hors Commerce, Alice Leonardi, Daniela Lucchetti, Serpica Naro, Marcial Vargas.
Alle ore 13.30 pranzo e dibattito pubblico con MARKTHALLE NEUN BERLIN, Franco D'Alfonso-Assessore al Commercio del Comune di Milano, Raffaele Magnotta- CDZ 5, Temporiuso.net, Bigmagma, Controprogetto s.n.c., Dynamoscopio, esterni, Hors Commerce e altri docenti, esperti e designers | info: REVOLVE art 6 craft . MAKERS edition 2014 |revolve art &craft 9.04.14 DEBATE Markthalle
REVOLVE ART & CRAFT
Public Lunch and sustainable design to the Municipal Market Montegani
9 April 2014 | 1-8 p.m.
Participate to a day dedicated to furnishing of Sustainable Design at the Municipal Market Montegani with performances by 10 young designers selected  to expose dishes, glasses, chairs, tables and other furnishings and Workwear concerning the Table and food. The event will be located inside the Montegani Market, now partially under-utilized. The realities that will participate: AIAB food design, Bigmagma, Controprogetto s.n.c., CMC design, Girocambiando, Hors Commerce, Alice Leonardi, Daniela Lucchetti, Serpica Naro, Marcial Vargas. | info: REVOLVE art 6 craft . MAKERS edition 2014 | revolve art &craft 9.04.14 DEBATE Markthalle
FILIERA DEL RICICLO/ RECYCLE CRADLE
Riuso, riciclo, re-design e architetture portatili alla Palazzina 7 e cortile
/ Reuse, re-cycle, re-design and mobile architecture at Palazzina 7 and courtyard
12 aprile 2014 / 12th April 2014 | 10 am-10 pm
Filiera del riciclo/ Recycle Cradle è un evento di 1 giorno presso Palazzina 7 e cortile in Viale Molise 62, dedicato allo scambio, al riuso, al riciclo e alla reinvenzione di oggetti e complementi di arredo e di architetture portatili con il conivolgimento di artigiani, designer, studenti e abitanti della Zona 4.  Partecipa! | ore 16.15 Visita al progetto del vicesindaco Ada Lucia De Cesaris. qui il programma in dettaglio: P7 recycle cradle 12 april| iniziativa in rete con FUORISALONE in ZONA 4  | Mappa_Zona_4_QUATTRO_RGB | P7 filiera riciclo A3
/
RECYCLE CRADLE
Reuse, re-cycle, re-design and mobile architecture at Palazzina 7 and courtyard
 12th April 2014 | 10 am-10 pm
Recycle Cradle is a 1 day event at Palazzina 7 and courtyard in Viale Molise 62 in Milan, dedicated to the exchange, the reuse and the reinvention of objects, furniture and mobile architecture involving artisans, designers, students and inhabitants living in Zona 4, Milan. at 4.15 P.M. Visit to the project area by the Vice-Mayor Ada Lucia De Cesaris.  Participate !  Download here the detailed program: P7 recycle cradle 12 april |   The event is part of the network FUORISALONE in ZONA 4